Committed To Energy Efficiency
Committed To Energy Efficiency
Designed for Energy Efficiency
Bradford White is proud to design and engineer over 60 models that are high-quality, reliable and efficient. These ENERGY STAR® certified products are built to meet or exceed government standards for efficiency. Our dedication to energy efficiency innovation and promotion has made us a 2020 & 2021 ENERGY STAR® Partner of the Year.
Our ENERGY STAR® Products – Video
Lower Energy Usage Costs
Our premium ENERGY STAR® certified products save your customers energy and money. That's especially important when you consider that heating water is the second largest energy user in the home. And for many businesses, it's an expense that impacts their bottom line. With your help, savvy customers will recognize that investing in a high efficiency water heater is a smart choice that pays off in year after year energy cost savings.
Lower Carbon Footprint
Cost reduction is only part of it. Going with a Bradford White ENERGY STAR® certified water heater reduces the impact of water heating on the environment saving energy and reducing green house gas emissions. In fact, the Bradford White ENERGY STAR® products sold in just the past year have saved nearly 23 metric tons of carbon from impacting the environment annually. That's the equivalent of eliminating the emissions that nearly 5,000 passenger cars put out in a year!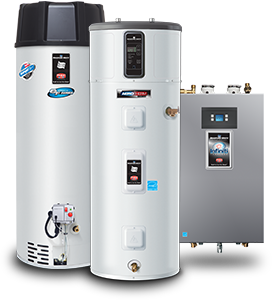 Additional Sales Incentives
Our ENERGY STAR® models qualify for many regional utility rebates – some as much as $1,000 or more. Additionally, certain models can also qualify for significant tax credits. Be sure to check out the available rebate programs in your sales area and which models qualify for tax credits with our rebate finder. Another great reason to go green with Bradford White.
Get on Our Contractor Directory
Help new customers find you and grow your business, get started today – a basic listing is FREE.
Exclusive Site for Professionals
Bradford White is dedicated to professionals like you. Our For The Pro® website is packed with valuable videos, training tools and documents you need to do the job right. Sign up today.